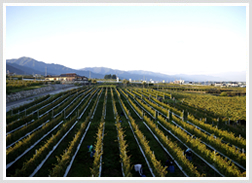 Established in 1885, Lumiere is a family-owned winery continuously operating for 130 years in Yamanashi prefecture where is the most famous and historical region for Japan's wine production. We have challenged and succeeded in making high quality wines.
Since 1967, our wines have won medals in European top competitions. The medal winning wines are showcased in our restaurant and shop. We are also working to promote wine and dine culture by offering french style dining which uses local seasonal ingredients.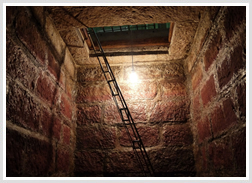 ■1885 Tokugi Furiya, a local lord and current president's great-great grandfather, founded Furiya Winery.
■1895 The name of company was changed to Koshu-en.
■1901 National cultural treasures "Ishigura" (wine tanks made from stone) was built.(Photo→)
■1943 The company was changed to Koshu-en Co.,Ltd. 1967 Chateau Lumiere Rouge and Blanc won gold medal at Monde Selection Wine Contest.
■1976 Toshihiko Tsukamoto became the president of Koshu-en. He improved the quality of wine greatly and we won gold and grand gold prizes in European top competitions.
■1985 A winemaking joint venture with the Chinese government was established.
■1992 The name of company was changed to Lumiere.
■1996 Chateau Lumiere Rouge was served at the luncheon party for the United States President Clinton's visit to Japan.
■2005 Shigeki Kida became the president of Lumiere.
■2007 Lumiere started to produce the sparkling wines.
Restaurant Zelkova was opened and the winery shop renewed.
■2008 The Japanese Royal Warrant was awarded.
■2011 Lumiere started to export wine to UK.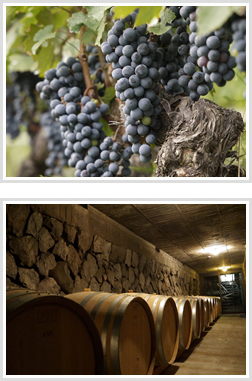 Surrounded by mountains and rivers, Yamanashi is the most spectacular vineyard region in Japan. Our main vineyards are very special, located in the area of alluvial fan. It provides preferable soil for wine making. The rocks of our vineyards are made of decomposed granite. Because of this property of the soil, this land has good drainage.
Our vineyards are cultivated using grass cover crop and no-tillage systems.This technique enhances the true nature of the grapes, and our wines can express to their utmost potential.
All of the grapes harvested by hand.
Then the grapes for the high class wines are hand-sorted on a sorting table and gently deposited into the destemmer.
A gravity-flow system is utilized which can bring down the wines naturally from the fermentation tank to the aging barrels without mechanical pumps.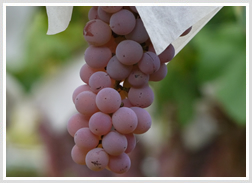 Koshu is a pink-skinned grape which is one of the most popular grapes in Japan. Approximately one thousand years ago, it travelled via the Silk Road from the Caucasus, across Central Asia, then on to China and finally to Japan.
KOSHU has registered as Vitis Vinifera, an official winemaking variety, by the international organization (OIV) in 2010. Today, we have resulted in success in winning international wine competitions.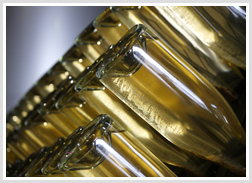 All of them are made by traditional which is same method as Champagne. This method has two fermentation steps. First fermentation begins after harvest and press, most likely to still wines. This base wine is converted to sparkling wine by adding sugar. Second one is the bottle fermentation which creates carbonation. After these steps, our sparkling wines are aged in the bottle more than 12 months. We take non dosage style to enhance delicate flavor and taste of the grapes. We produce several kinds of sparkling wines mainly use Koshu grapes.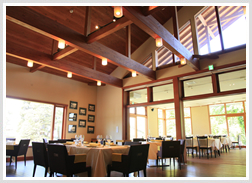 At our restaurant, we offer selected food which uses farm-fresh and locally grown ingredients. All the cuisine menus are prix-fixed and?change monthly. You will be relaxed and enjoy the marriage Lumiere wines' and fine cuisine.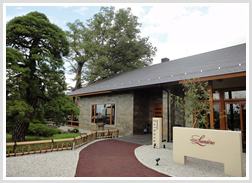 At our winery shop, all line-ups are available and we provide shop-limited wines, liqueurs, vinegars and goods. We hope you can find your favorite wines.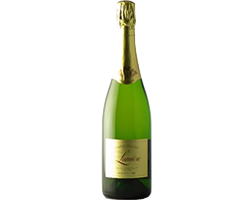 This sparkling wine was fermented by natural yeasts and made by the Traditional Method, with lees contact for more than one year. It is a food-friendly wine and especially good with Prawn, scallop and other seafood, healthy Asian food and Japanese food.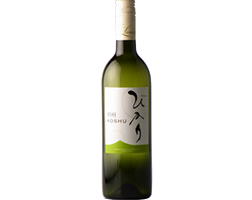 Koshu is the traditional grape variety native to Japan and has been grown for 1200 years in Yamanashi prefecture.
This wine was fermented in stainless steel tanks and aged on the lees for 6 months, and the taste is fresh and crisp with citric fruits aromas. It is a food-friendly wine and especially good with seafood and Japanese food.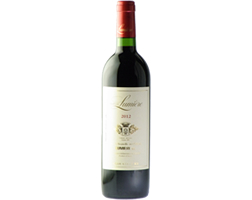 The Blend of Merlo,Tannat and Cabernet Sauvignon give this wine great complexity on the nose.Rich plum and blackberries on the nose,with fine tannins,medium acidity and lots of berry flavors on the palate.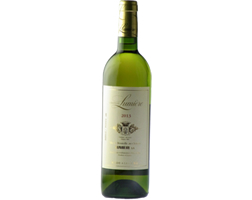 This wine is blended of Semillon, Petite Manseng,Sauvignon Blanc and etc. Lemon peel,Passion fruits and freshly cut grass on the nose.Followed by subtle nutty flavor.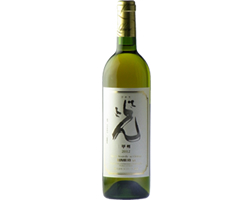 This flagship limited wine uses only Koshu from our vineyards. It is aged in the barrel for long term. Very rich and elegant taste, yet fruity character of Koshu is remained.
Elegant and mellow flavor of ripened fruits, spices and butter followed by complex wood. You can enjoy the aroma and flavor of Koshu together with the volume and warmth from oak aging.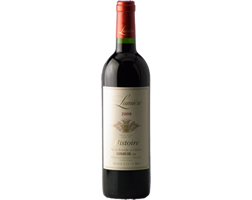 This wine is made from Cabernet Franc and Black Queen grown in Yamanashi.Well banlanced,rich and gentle taste leaves in your mouth.The color is deep ruby and flavor of elegant floral like roses.This wine is meduim body type aged in oak barrel for 29 months.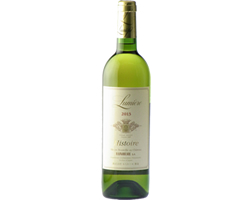 The blend of Delaware, Semillon and Milles gives this wine rich aromas of lychee as well as rose, honey and nuts. This would be best paired with seafood, light meat like chicken and fresh ham, Chinese and Ethnic food.


●United Kingdom
AMATHUS DRINKS PLC
●Taiwan
TAI ZEUS INTERNATIONAL CORPORATION
●HongKong
Fine Vintage (Far East) Ltd.
●Indonesia
●Singapore


Lumiere Winery / Lumiere Co., Ltd.
Owner & Wine Maker : Shigeki Kida
Vineyards: Owned: 3ha, Under Contract: 27ha
Annual Production: 300kl
Grape Varieties: White: Koshu, Chardonnay, Sauvignon Blanc, Delaware, Semillon
Red:Cabernet Sauvignon, Merlo, Cabernet Franc, Petit Verdot, Tannat, Tempranillo, Muscat Bailey A, Black Queen, Mills
Address
624 Minami-noro, Ichinomiya-cho, Fuefuki-shi ,Yamanashi 405-0052 JAPAN
TEL +81 (0)553-47-0207
FAX +81 (0)553-47-2001


BY TRAIN
From Tokyo Area
90-mins by "Express Kaiji" or "Express Azusa" from Shinjyuku Station to Enzan Station or Katsunuma-budokyo station on JR Chuo Line.
15-mins by taxi from Enzan Station, or 10-mins by taxi from Katsunuma-budokyo Station.
From Nagoya Area
15-mins by chuo-local-line from Kofu Station to Yamanashi-shi Station.
15-mins by taxi from Yamanashi-shi Station.
BY CAR
5-mins from Chuo Highway Katsunuma I.C.
BY HIGHWAY BUS
20-mins walk from "Chuoshakado" Highway bus stop or 30 mins from "Katsunuma" Highway bus stop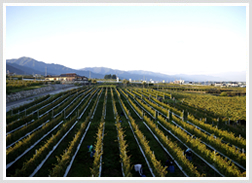 我們是以尊重自然為基礎的專業釀酒廠。
Lumiere是從1885年創業至今130間年都在同一地點進行家族式經營的釀酒廠。
從創業時就以"好葡萄酒來自於好葡萄"為理念進行葡萄栽培以及最高品質葡萄酒的釀造。
現任社長木田茂樹是公司的第五代所有者。
我們備置了發揚本地食材的法式餐廳以及供消費者悠閒購物的商店,我們推崇喜愛葡萄酒的文化。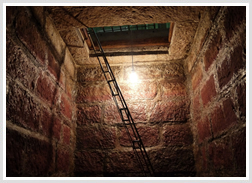 ■1885 當地的莊園主也是現任社長的高曾祖父降失德義創立了釀酒廠。
■1895 從降矢釀造所更名為甲州園。
■1901 用花崗岩建造了地下發酵槽,現已經註冊國家有形文化財產。
■1927 Lumiere葡萄酒成為昭和天皇即位大典用酒。
■1943 公司改組為株式會社甲州園。
■1967 在第二回Monde Selection(世界精品大獎)世界葡萄酒比賽中Lumiere的紅葡萄酒和白葡萄酒都獲得了金獎。
■1985 與中國政府合作建立合資公司。
■1992 更名為株式會社Lumiere。
■1996 美國前總統克林頓來日本,午宴的菜單中使用了Chateau Lumiere的紅葡萄酒。
■2005
■2007 開始生產起泡葡萄酒。
■2008 為皇室供應葡萄酒。
■2011 開始向英國出口葡萄酒。
自1967年以來,Lumiere已經多次在歐洲最高級葡萄酒評選中獲獎。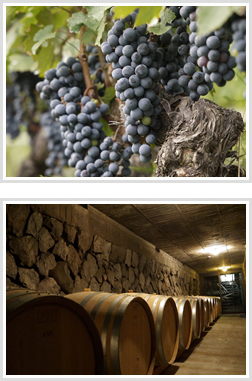 釀酒廠周圍主要的農場位於由破碎的花崗岩堆積成的扇狀地上。正因如此,這裡排水好,最適合葡萄的栽培。
另外,為了展現葡萄本來的面貌,提取出更強更濃的味道,我們採用不耕地栽培和生草栽培的方法。
我們所有的葡萄都是用手來收割。一部分高級葡萄酒用的葡萄用選果臺進行篩選。
葡萄酒的移動不使用電子水泵而是使用可以使其自然落下的重力裝置。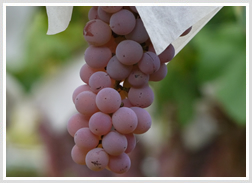 甲州葡萄是日本最重要的固有品種。大約在一千年前,從高加索地區通過絲綢之路穿過中亞來到中國,最後來到日本。
在2010年,甲州葡萄被國際葡萄與葡萄酒組織註冊為葡萄酒專用品種,在國際評選大會中也獲得了很高的評價。
為了防雨,我們給每一串葡萄都包上粘性紙,就像給葡萄打了一把傘般精心呵护。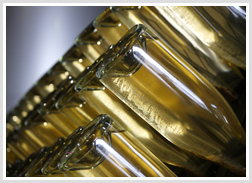 Lumiere的起泡葡萄酒是根據傳統的方法在瓶內發酵被製成的。
通過第一次發酵,葡萄汁變成了沒有泡沫的葡萄酒(被稱作基礎葡萄酒)。
通過第二次發酵,把基礎葡萄酒釀造成起泡葡萄酒。
當酵母把糖轉化成酒精時,自然而然就能產生出二氧化碳。如果發酵在密閉的瓶子中進行的話,這些二氧化碳就可以溶解到葡萄酒中,從而製成了起泡葡萄酒。
這種方法製成的起泡葡萄酒的泡沫特點是非常小且如奶油般柔滑。
經過12個月以上的陈酿,引出酒的美味,為了不損害纖細的香味及口感,使用"Non Dosage"的方法釀成。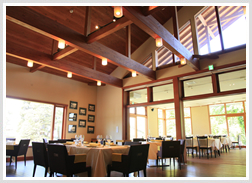 餐廳Zelkova為繁忙都市中生活的朋友們提供了一個遠離忙碌與喧囂、可以治愈心灵的绝佳去处。
通過Zelkova當地的食材做出的美食來品酒、通過呼吸葡萄酒孕育的空氣來品酒,讓朋友們真正地體會到Lumiere葡萄酒的美味。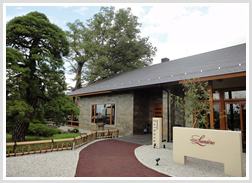 為您提供悠閒的購物環境,在這裡可以購買到Lumiere的所有商品。同時也為您提供葡萄酒的試飲服務。
我們真心地希望找到屬於您的葡萄酒!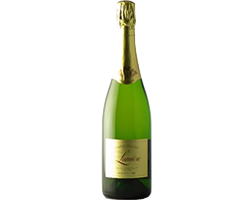 通過瓶內發酵而產生天然碳酸氣體的起泡葡萄酒。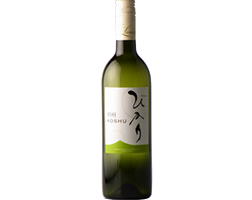 這款酒使用100%山梨県產的甲州(Koshu)葡萄和天然酵母製成。甲州葡萄是種植在山梨地區的日本傳統品種。为了;"Umami"以及丰富的味道,這款帶有果香的乾白在在不鏽鋼發酵槽中發酵并釀造至少6個月。非常適合搭配日式料理特別是風乾的天然鹽。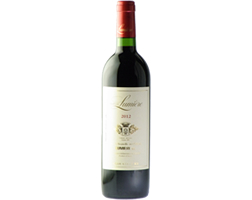 具有Merlot、Tannat和Cabernet Sauvignon的混合香味,散發著洋李和黑莓的果香。單寧豐富、酸度適中, 有莓類的味道。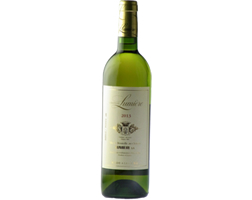 洋溢著南國荔枝和薔薇的馥郁芬香,清爽的酒酸、味道均衡協調的美酒。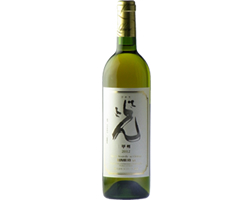 "Lumiere"在法語里是"光"的意思。使用我們公司農場自己生產的葡萄,釀造出能夠代表我們釀酒廠的葡萄酒。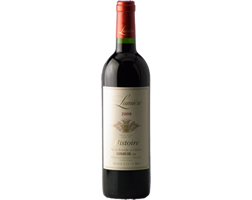 平衡、豐富、柔和的口感迴蕩在嘴边。顏色深紅、味道如玫瑰花般優雅。在橡木桶中發酵24個月并呈中度酒體。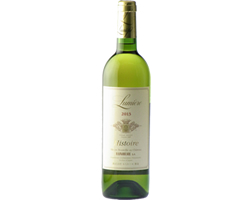 這款酒使用Delaware、Semillon、Mills葡萄和天然酵母製成。之後在法國的橡木桶中進行發酵和釀造。含有豐富的荔枝、薔薇、蜂蜜、堅果的香味。適合海鮮、中華料理及雞肉、新鮮火腿等清淡的肉類。


●台湾
TAI ZEUS INTERNATIONAL CORPORATION
●香港
佳年洋行 Fine Vintage (Far East) Ltd.


開車的客人,請從勝沼高速公路出口出高速,5分鐘后到達。乘坐電車的客人,請從JR鹽山車站換乘出租車,15分鐘后到達。或者請從JR勝沼葡萄鄉車站換乘出租車,10分鐘后到達。


地下鐵永田町4號出口,鹽崎大廈地下1層即是。葡萄酒商店主要經營Lumiere的葡萄酒、葡萄醋以及法國葡萄酒。